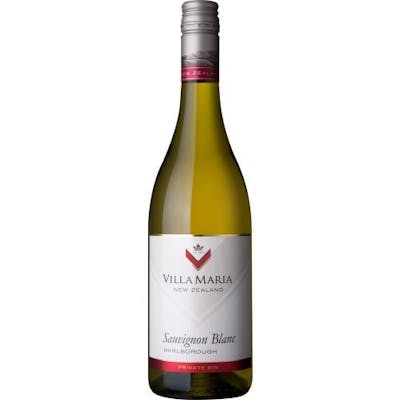 SKU: 1072
Villa Maria Private Bin Sauvignon Blanc 2020
---
$16.99
Save $5.90 (34%)
$11.09
---
$20.00 Off Ground Shipping Item. Minimum purchase of 12 bottles.You can mix & match all discount shipping items.
This intense Sauvignon Blanc is alive with a myriad of flavours dominated by gooseberry, passionfruit, fresh citrus, melon and herbaceous aromas. The wine has an enticing palate with a juicy flavour profile, purity and concentration, finishing crisp and clean with an interwoven thread of acidity.
Like licking a popsicle, there's a refreshing and ultrafruity likability about Villa Maria's latest Private Bin SB, from a great vintage after two difficult ones. Peach, lime and strawberry burst from the glass. Undercurrents of green pepper and grass are there, too. In the mouth, the fruit feels bouncy and juicy, and acidity is lifted but not searing.
Villa Maria's 2019 Private Bin Sauvignon Blanc is easily one of the company's most successful vintages. It captures subtle hints of greenery and aligns them beautifully with notes of passion fruit and grapefruit. It's medium-bodied, reasonably generous on the palate and features a long, intense finish, something that many of its competitors lack.
Peach and citrus notes are direct and appealing, with accents of fresh hay and dried herb on the finish. Drink now. 110,000 cases imported.