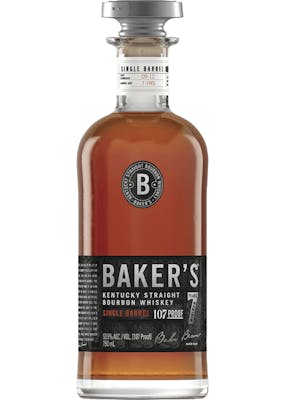 SKU: 48
Baker's Kentucky Straight Bourbon Whiskey 7 year old
---
Unavailable
We're sorry, but this product is not currently available.
---
While the notes of every barrel of Baker's offer a unique tasting journey, you can expect a few defining characteristics. Fruit, vanilla and carmel on the nose. Palate is medium bodied with flavors of oak, toasted nuts and vanilla. Finish is robust, medium long and warmly rounded.
Lean, dry and spicy, this seven-year-old small-batch Bourbon may be reminiscent of of rye whiskey. It has a mild maple scent and complex layers of vanilla, cigar wrapper, tea and orange peel, with a spicy finish. The alcohol feels moderate, even mellow, for over 100 proof.
Rich, multi-layered nose; vanilla, cornmeal, berries (black raspberries, wineberries), and broad-shouldered oak. Powerful, but not overproof hot in the month; controlled. Mature, complete bourbon with a 7 year age statement, and a real sleeper in the Small Batch Collection. - LB