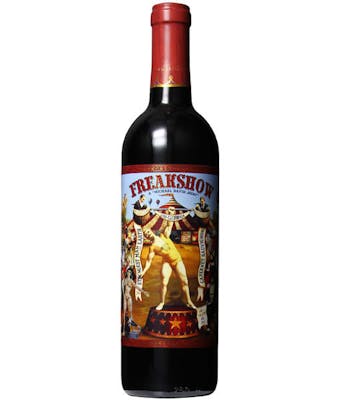 SKU: 892
Michael David Freakshow Cabernet Sauvignon 2019
---
$21.99
Save $5.99 (27%)
$16.00
---
$20.00 Off Ground Shipping Item. Minimum purchase of 12 bottles.You can mix & match all discount shipping items.
The first star in our Freakshow series, our Cabernet Sauvignon is bold and muscular with poise and grace! Raspberry, plum, and toasted vanilla aromas open the show leaving you wanting more. Full bodied showcasing flavors of red cherry, hints of floral and dark fruit with tannins coming through the lasting, oak-kissed finish.
This bold, flamboyant wine shows a deep, dark color and extravagant aromas of mulled fruit and baking spice. The palate is delicious in ripe black-fruit flavors that are framed by soft tannins that seem to melt in the mouth. For all its big features, it's easy to drink and appreciate.